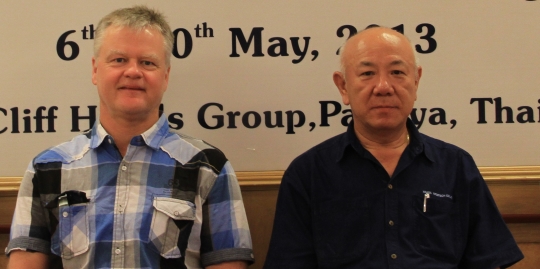 Posted: 2 May 2019
"Competition is the law of the jungle, but cooperation is the law of civilization".
It's about trusts and building relationships. Being where the customers are. For a worldwide company like LARSSON, we should be where you, our customers, are. In excess of our fantastic LARSSON offices worldwide (we have offices in Belarus, China, Brazil and Vietnam), we have business partners who together with us create added value for the customers. One of those excellent partners is Hansa International Co. Ltd. In Thailand.
LARSSON has been active in Thailand since the early 1990s. Orders to Thailand are continuously increasing and we continue to have a leading position as a manufacturer of starch machines in the country. The first few years we worked there ourselves, but we early understood that we need local people in place, people with good local understanding and experience to meet the specific demand that exists. Then we got in touch with Mr. Pichai Tangtrakul at Hansa International Co. Ltd. and it was an immediate connection. Since then, we have had a close collaboration that gets deeper and deeper for each year.
At a seminar in the early 2000s, LARSSON sales via Hansa went up. The first order of the new model of rasper GL1000/600 was sold to Thailand. This rasper became a huge success and we have today sold over 200 raspers around the whole world.
Hansa International Co. Ltd. started their business in 1987 with steam boilers, dryers and plants as representative of Deutsche Babcock Anlagen AG/Germany. Their main customers are tapioca starch factories in Thailand as they all require their products – steam boilers, hot oil heaters and starch dryers.  In the end of 1990s Larsson engaged a head-hunting company for finding an agent in Thailand and by the end of 1999 Hansa started to represent LARSSON.
"Becoming number one is not easy, but to maintain the top position is even harder. We need to provide the market with new ideas, significant innovation and price competitive products and services. We need to keep up with our competitive advantages to maintain our market leadership" Pichai says.
"The cooperation with Hansa has been a success from the beginning and Larsson would never come to the position we are today without this cooperation" Jörgen Larsson says.