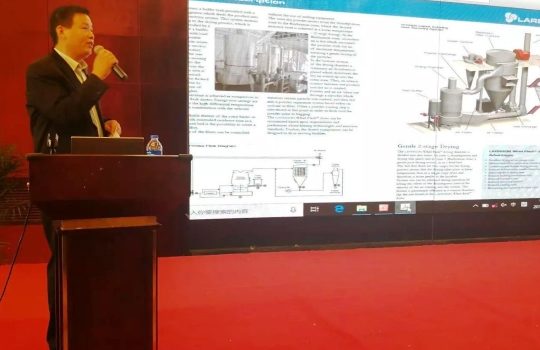 Posted: 11 June 2019
LARSSON is active world-wide and our first LARSSON office outside Sweden was establish in China. After some very successful projects in China 2004-2005, LARSSON decided to build up a stronger position in Asia and LARSSON registered a Rep. office in China in August 2007. Later, in October 2011, our office in China became registered as a subsidiary company – Larsson Starch Technology (Guangzhou) Co., Ltd. The office is located in Guangzhou, Panyu District.
On March 29th, 2019, the Potato Starch Specialty Council of China Starch Industry Association arranged an industry environmental protection conference at Liverpool University, Suzhou city. Mr. Han Xinliang, the manager of Larsson Guangzhou office, was specially invited to attend the conference and speak about the application of European potato starch industry in waste water and potato pulp treatment. LARSSON Whirl Flash™ dryer was also introduced at the conference. LARSSON Whirl Flash™ dryer is specially designed for continuous drying of potato fruit juice protein, filter cakes, slurries, pasteous and fibrous products. Unlike other comparable dryer types on the market the LARSSON Whirl Flash™ dryer is ideal for inorganic chemicals and even more difficult products, such as plant-based and meat proteins, which can be successfully dried in the LARSSON Whirl Flash™ dryer.
Read more about LARSSON Whirl Flash™ on our homepage. Click on the link to get direct to our product page: LARSSON Whirl Flash™
Contact information to Office Manager, China, Mr. Han Xinliang you find on Contact page.