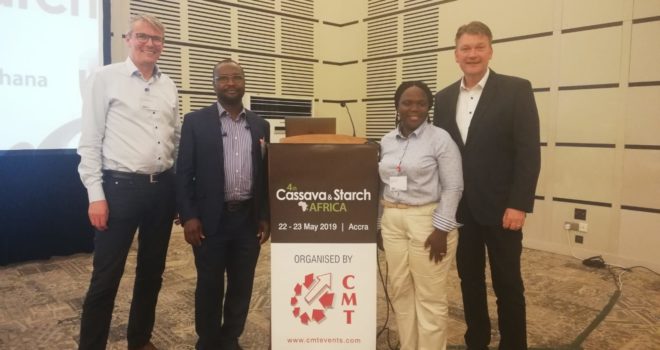 Posted: 24 May 2019
Cassava is a major staple food and carbohydrate source in Africa, providing a basic diet for over hundreds of millions of people. It is one of the most drought-tolerant crops, capable of growing on marginal soils. Nigeria is the world's largest producer of cassava, while Thailand is the largest exporter of cassava starch.
However, also in Africa the "food of the poor" has become a multi-purpose-crop that responds to the challenges and priorities developing countries are facing nowadays. For a long time is was about "eating" cassava only, however more and more the African countries are exploring of cassava processing too, entering higher-end market trends in the cassava value chain like Ethanol, Glucose & Maltose syrups, (High Quality) Cassava Flour and – last but not least- cassava starch.
Mr. Peter Boschma, G. Larsson Starch Technology AB, Sr. Area Sales and Marketing Director, represented LARSSON at the 4th CMT Cassava and Starch Africa Conference in Accra, Ghana, 22 & 23 May. He joined this key industry event together with Mr. Jens Thomsen, Director of ISI Denmark, long time LARSSON business partner in various starch areas, including Africa. They were impressed by the changes and progress Africa has been making over the recent years as well as the high number of initiatives in the region towards cassava processing.
"The industry is still struggling getting the cassava supply chain right. This is critical as cassava is a perishable crop. There are still many challenges, esp. in the farming and logistics. Nevertheless, I noticed a tremendous commitment and passion among the local African (key) players, without doubt there is a lot of potential developing. For LARSSON, as world-leading solution provider in the cassava starch industry, this is a trend to respond appropriately." Mr. Boschma says.
"Sure!" Mr. Thomsen is adding. "LARSSON and ISI together recently commissioned another turn-key cassava starch factory in Nigeria. More and more plans are turned into action, our partnership can contribute a lot this important development in the region."
In picture, from left to right:
Mr. Jens Thomsen, CEO of International Starch Institute A/S
Mr. Oyetunde Solaja, Managing Director of Crest Agro Products Limited, Nigeria
Mrs. Oluyemisi Iranloye, CEO of Psaltry International Company Limited, Nigeria
Mr. Peter Boschma,Senior Director, Area Sales & Marketing, G. Larsson Starch Technology AB
More about the event at their web page 4th Cassava & Starch Africa