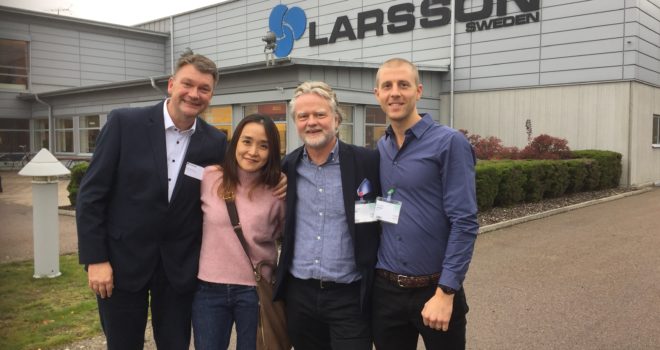 Posted: 25 October 2019
A week after the 4th Starch World and Food Protein Europe in Copenhagen, Denmark, we still have very positive memories and reflections. These events were very interesting and fruitful with an in-depth knowledge from speakers with different expertise in the starch and protein industry. We were given interesting presentations on starch and protein related industry developments from different perspectives.
It is a good platform for us in starch community to connect and networking, discuss present and future of the starch market and share our knowledges with our customers and colleagues.
To combine those two events, 4th Starch World and Food Protein, in one common conference is wise since they are merging more and more together. This is what we at LARSSON are working towards as well – to combine the industries and use and extract all containing parts of the crops and make value out of it!
LARSSON as platinum sponsor did also together with Lyckeby and Stora Enso Pulp & Paper Mill offer a delegation of approximate 45 participants company visits the day before the events. We feel honored to show you our facility.
We hope you all enjoyed the event as much as we did. Please comment in field below, what do you bring with you from these events and the tour the day before?
With many thanks for your contribution, we are already looking forward to next year's event!
And as always, if any questions, please feel free to contact us! Please have a look in our Product portfolio in menu above.